The Pajama Project
Collaborative Work Session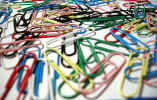 Got a project you'd love to work on if you could only find the time?
Or, maybe your project is one you dread but MUST take care of and soon. But when? How?
This gently structured collaborative work session may be the answer! But why take a class? Why not just tackle it on your own?
Well, if you're like most of us, you won't make the time. And this venue offers you something you won't get on your own -- a support system of people to offer you accountability, emotional support, and acknowledgement for a job well done.
Here's how it works. . . .
In advance of the work session, you will set up a brief coaching call with the instructor who can serve as your "sounding board" to help you clarify your project (this call is optional if you're clear on what is needed to complete your project).
At the beginning of the work session, you will simply call a conference line to join fellow participants each of whom will briefly outline their goal. Making a commitment to others is very powerful!
At the end of the session, you will again call the conference line, briefly report to the group what you got done, and receive acknowledgement for your hard work!
During the hours between the two calls, you are invited to contact the instructor if you get stuck with your project.
Often, there are others on the call who have expertise in the area of your project and can offer helpful suggestions.
This is a VERY informal venue. And, you can work in your pajamas if you like. . . no one will ever know!
"Every time I sign up for one of these, I get so much done. You never know who may show up on these calls. Once, a professional organizer was in my session and offered me pointers. Another time, an accountant was in my session and told me where to find info I needed to complete my project. What a nice surprise!".
J. S.
Target Audience
Those who find themselves more motivated to work when they have gentle structure and the "synergy" of a group of like-minded people
Cost
$49 (Includes a 1/2-hr private coaching session)
Note: This venue Is included in some workshops at no extra charge (see RELATED WORKSHOPS at the bottom of this column)
Duration
3 hours (day and evening times available)
Click here to register or ask a question
Samples of what participants have
accomplished
in 4 hours